Autumn is here, heat your home the green way...
Our beautiful Bio fires are fueled by eco-friendly bio ethanol and are an amazing way to heat your home.
Features of our LayzeeTubs
(Included as standard)
Timber Steps
Beautifully crafted timber steps included with all our tubs, made in the same colour that you choose for the tubs main body of which there is so much choice!
Which lid type?
Insulated, timber or fibreglass options
Insulated to keep the heat in, fibreglass to retain heat too but also provide a domed effect to the lid or just a beautifully natural timber lid in the colour of the tub, the choice is yours.
Spa Systems
Which are right for you?
We offer air, hydro and integrated LED lighting, air is just that, bubbles pumped out of nozzles built into the fibreglass liner, hydro which is water blown out of larger nozzles which when mixed with the air bubbles produce the full jacuzzi effect, integrated LED lighting is built into the back of the hydro nozzles which provides a beautiful light show beaming up through the water jet, all controlled via simple controls on the outside of the tub.
Our flue
Protection as standard
We provide a flue guard and rain cap as standard with all our tubs, a flue guard is essential to protect those little (and large) fingers from getting burnt from the hot flue, the rain cap stops rainwater from putting your precious fire out!
Drinks shelf
Fancy a drink?
Whilst we couldn't possibly condone drinking in a tub we provide a beautifully crafted timber drinks shelf with all our tubs, simply screwed to the outside of the tub it provides a safe haven for a glass of water or your favourite brew.
The liner
Fibreglass quality liner
We supply a fibreglass liner as standard, this makes cleaning the tub very easy with a quick wipe down and is supplied in many different colours, grey, white and blue are standard but if you have a specific requirement please ask.
Stainless heater
Integrated or external?
We offer both external or integrated heaters, standard is 304 stainless which can be upgraded to 316 stainless if you plan on using Chlorine or Bromine based chemicals, with a glass window, ash tray for easily emptying when full and an adjustable vent for getting your fire just perfect, we don't scrimp on anything.
Features of our LayzeeSaunas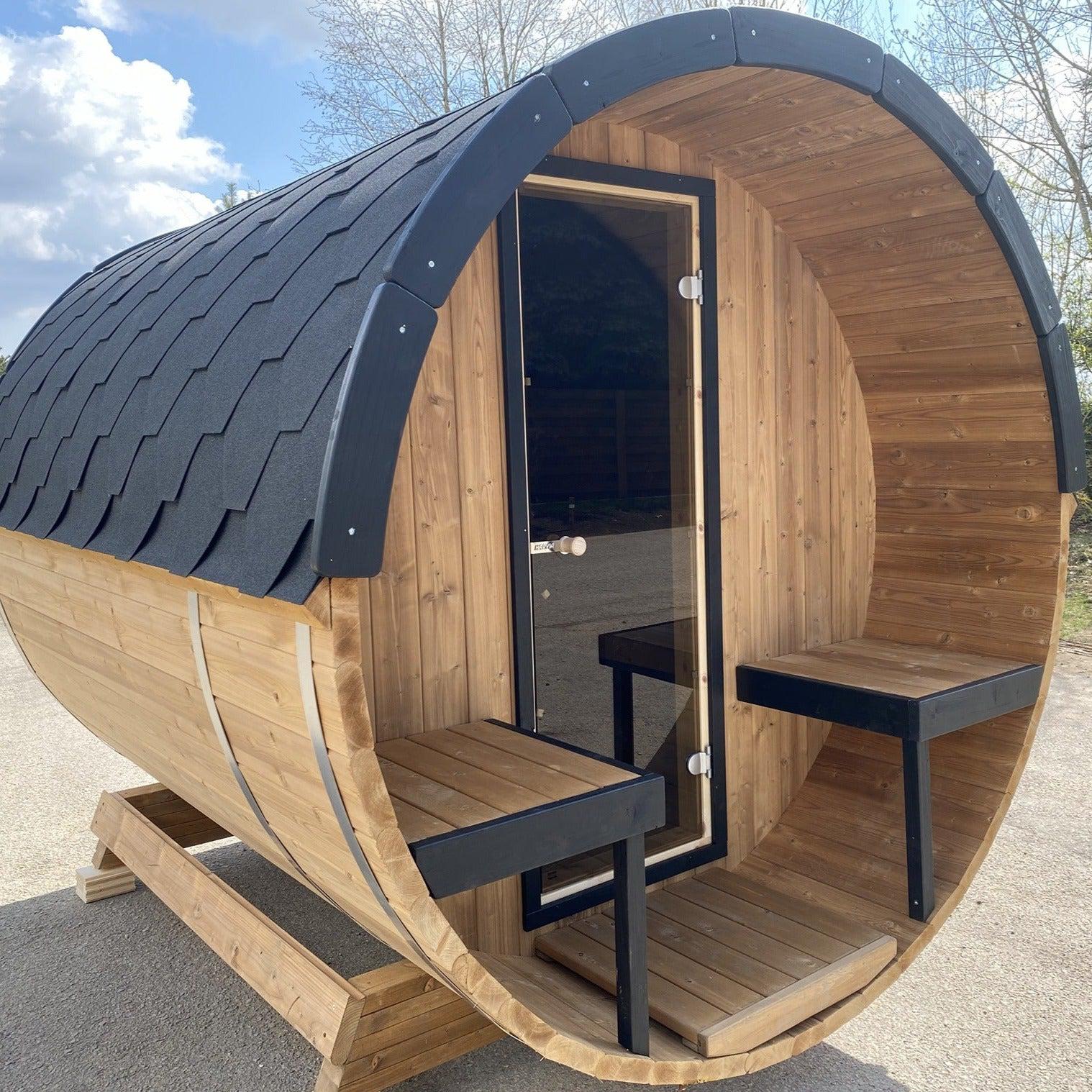 (Included as standard)
42mm timber logs for amazing strength
All our barrel saunas are made from the finest timber logs slow-grown in Scandinavia, they can be finished in a colour of your choice.
Fancy a glass wall?
Half-Moon or Full-Moon rear & front windows
Do you have an amazing view that you want to gaze at whilst bathing in your new sauna? We have a window type to suit your view, please ask and we can add them to your order
Roof Shingles, included as standard
Roof protection as standard
We include everything you need in our pricing already, just let us know if you want a certain colour of roof shingles, we make it easy by including everything
Heater
Electric or wood-fired?
We only include the best heaters made by our partner Harvia, we include the largest electric heater as standard and offer their amazing M3 wood heater also, your choice
Wood Type
Spruce or Thermowood?
Both are slow-grown Scandinavian Spruce but you can either have it standard or heat treated for longevity and aesthetics, just select Spruce or Thermowood at checkout
Add a simple timber pond to your garden this Autumn